May 18, 2023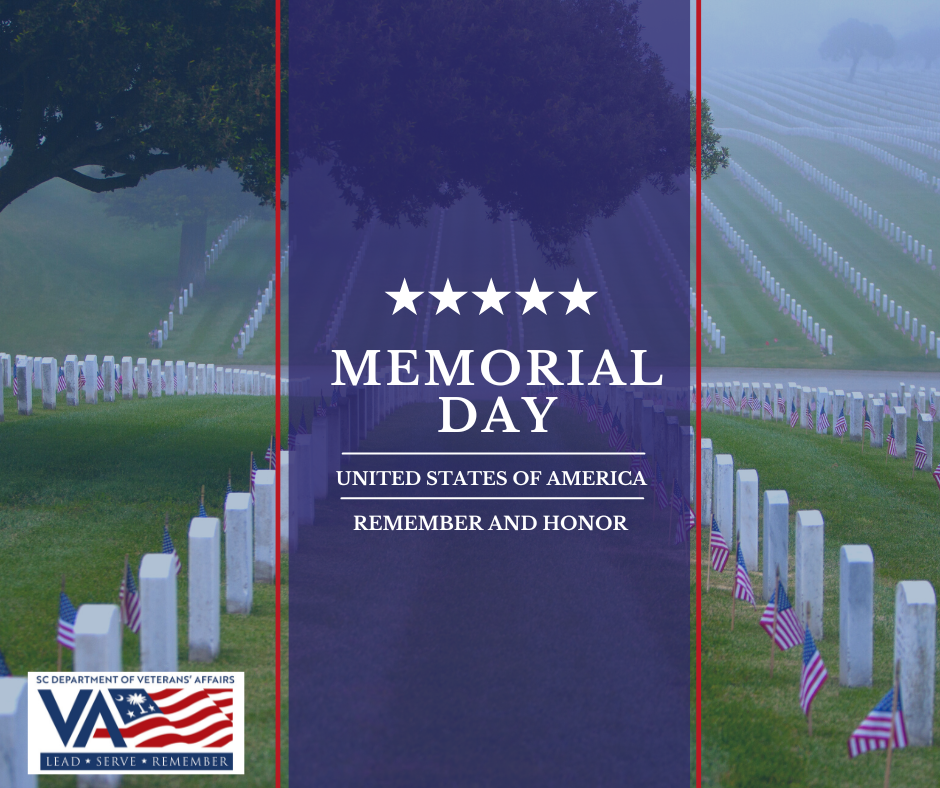 Memorial Day will be observed this year on Monday, May 29th to honor the men and women who gave the ultimate sacrifice while serving our country.
Every year, South Carolina Governor Henry McMaster issues a proclamation in observance of Memorial Day to encourage all to remember, recognize and honor Americans whose sacrifices helped strengthen our Nation and improved quality of life for people around the world. 
 There are numerous events happening around the state this Memorial Day that are listed below. Click here to view the Governor's proclamation. This list will continue to be updated as events are sent to us.
---
NATIONAL MEMORIAL DAY CEREMONIES
NATIONAL CEMETERIES, SOUTH CAROLINA
MAY 29
Florence National Cemetery
803 E National Cemetery Rd.
Florence, SC 29506
10 A.M.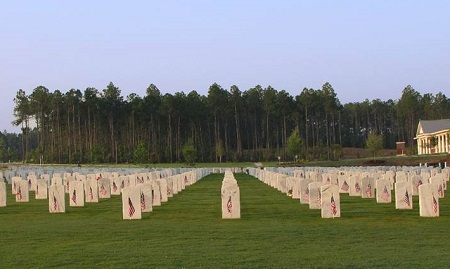 Fort Jackson National Cemetery
4170 Percival Road
Columbia, SC 29229
10 A.M.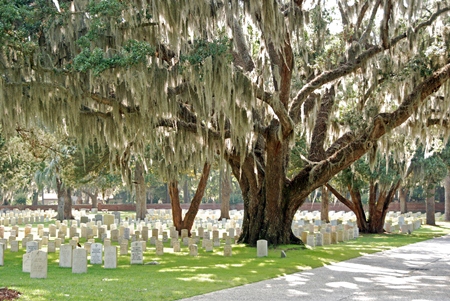 Beaufort National Cemetery
1601 Boundary St.
Beaufort, SC 29902-3947
12 P.M.
---
Memorial Week Events
VARIOUS LOCATIONS, ANDREWS 
MAY 20
9:00 A.M.
The graves of Veterans will be flagged at the Town of Andrews Memorial Cemetery. The event is hosted by American Legion Post assisted by the Andrews Veterans Association. We will meet in the center of the cemetery by the large Cross. Make sure you bring something to tap the grave-marker flags into the group. We thank American Legion Post 69 Commander Ed Jayroe for ordering the flags from the National Emblem Sales of the American Legion. The flagging of the graves is expected to take about one hour. Then we will proceed to the Andrews Veterans Memorial Park to clean the engraved bricks.
MAY 29
The Andrews Memorial Day Observance will be held on Memorial Day, Monday, May 29, 2023 at the Andrews Veterans Memorial Park, next to the American Legion Post. Please tell Veterans, their families and their friends to attend.
For information about Memorial Week Events contact George Furbee at 240-298-1857 or Greg Bennett at 843-325-8845.
---
282D ARMY BAND ARMED FORCES DAY CONCERT
SC STATE HOUSE, COLUMBIA

---
MEMORIAL DAY PARADE
DOWNTOWN AIKEN

---
VETERAN-SURVIVOR OUTREACH RESOURCE FAIR
NEWBERRY STREET, AIKEN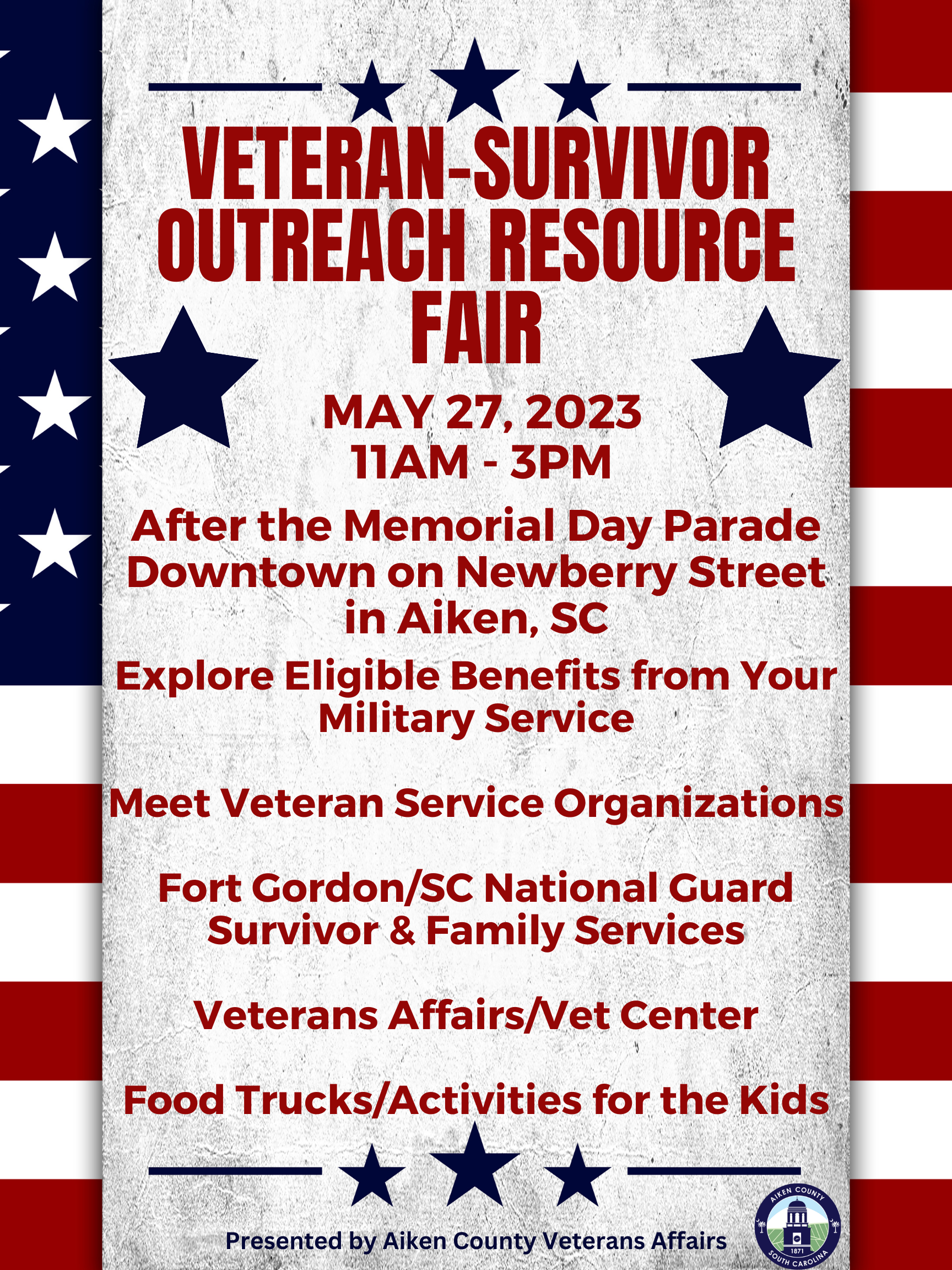 ---
MEMORIAL DAY CEREMONIES
BUFORD MASSACRE BATTLEFIELD, LANCASTER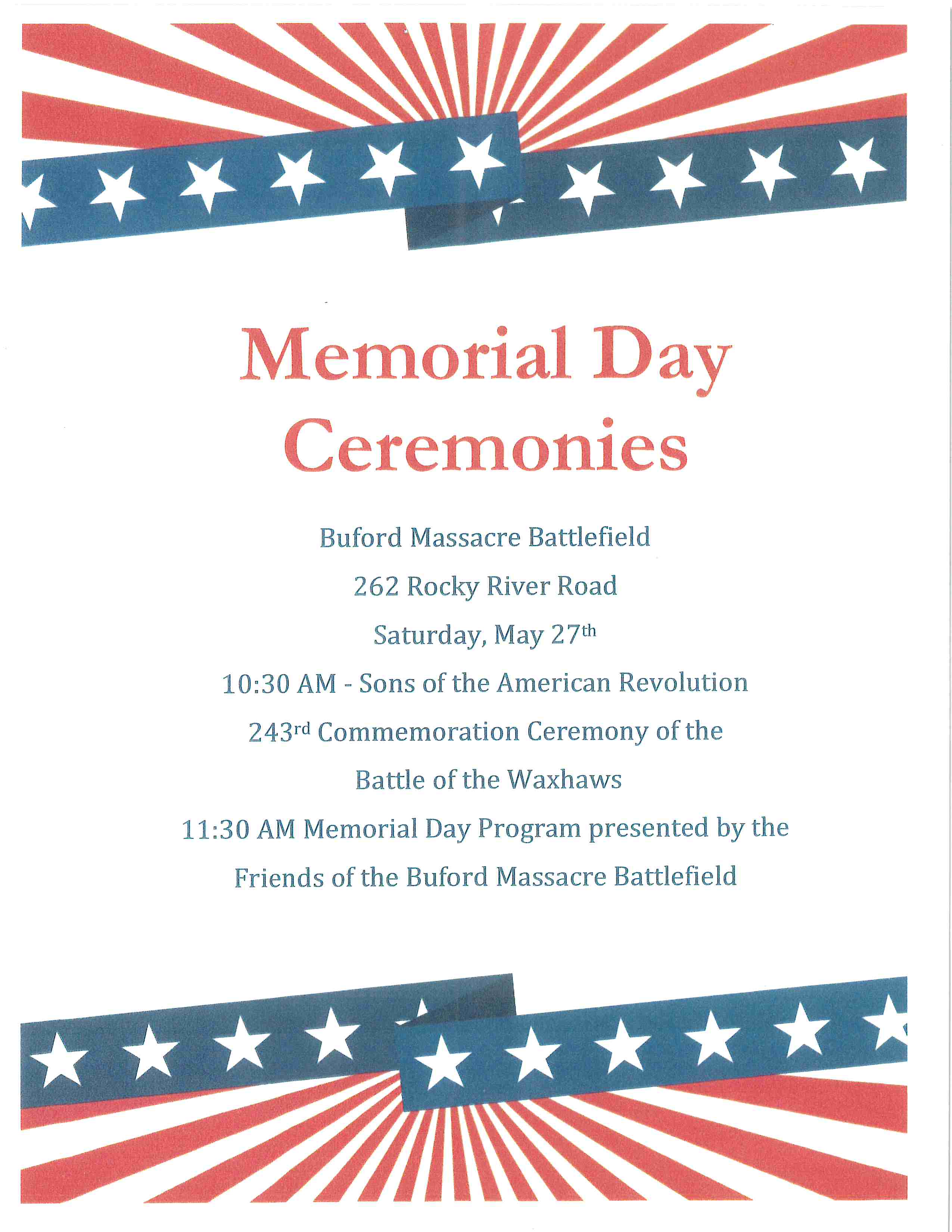 ---
3RD ANNUAL MEMORIAL DAY REMEMBRANCE
SOUTH CONGAREE ARENA, WEST COLUMBIA

---
MCCORMICK COUNTY MEMORIAL DAY SERVICES
AMERICAN LEGION POST 19, MCCORMICK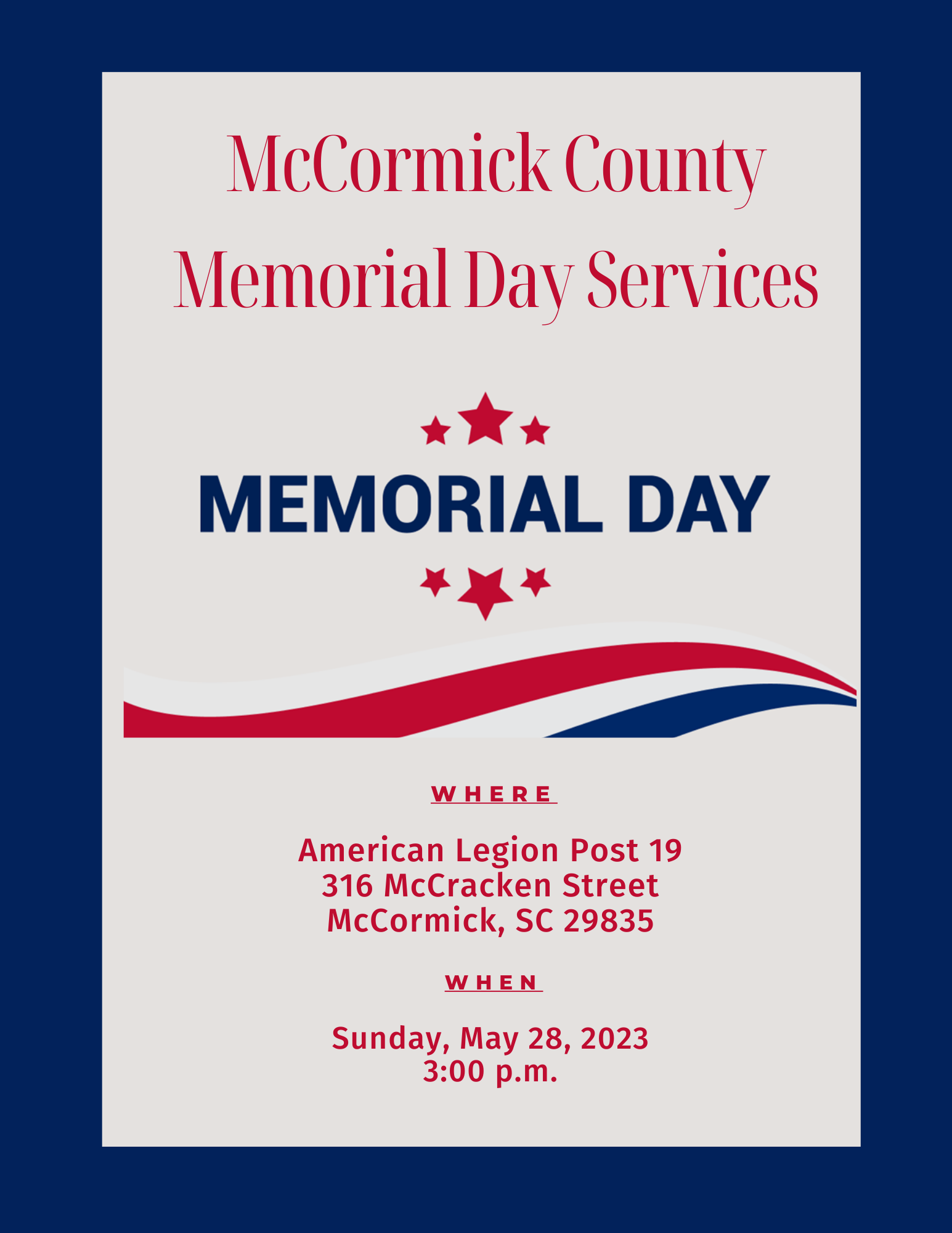 ---
A LEGACY OF REMEMBRANCE MEMORIAL DAY CEREMONY
WATERFALL PLAZA, WALTERBORO

---
MEMORIAL DAY SERVICE
M.J. "DOLLY" COOPER VETERANS CEMETERY, ANDERSON
**SEATING IS LIMITED, PLEASE BRING YOUR OWN CHAIRS**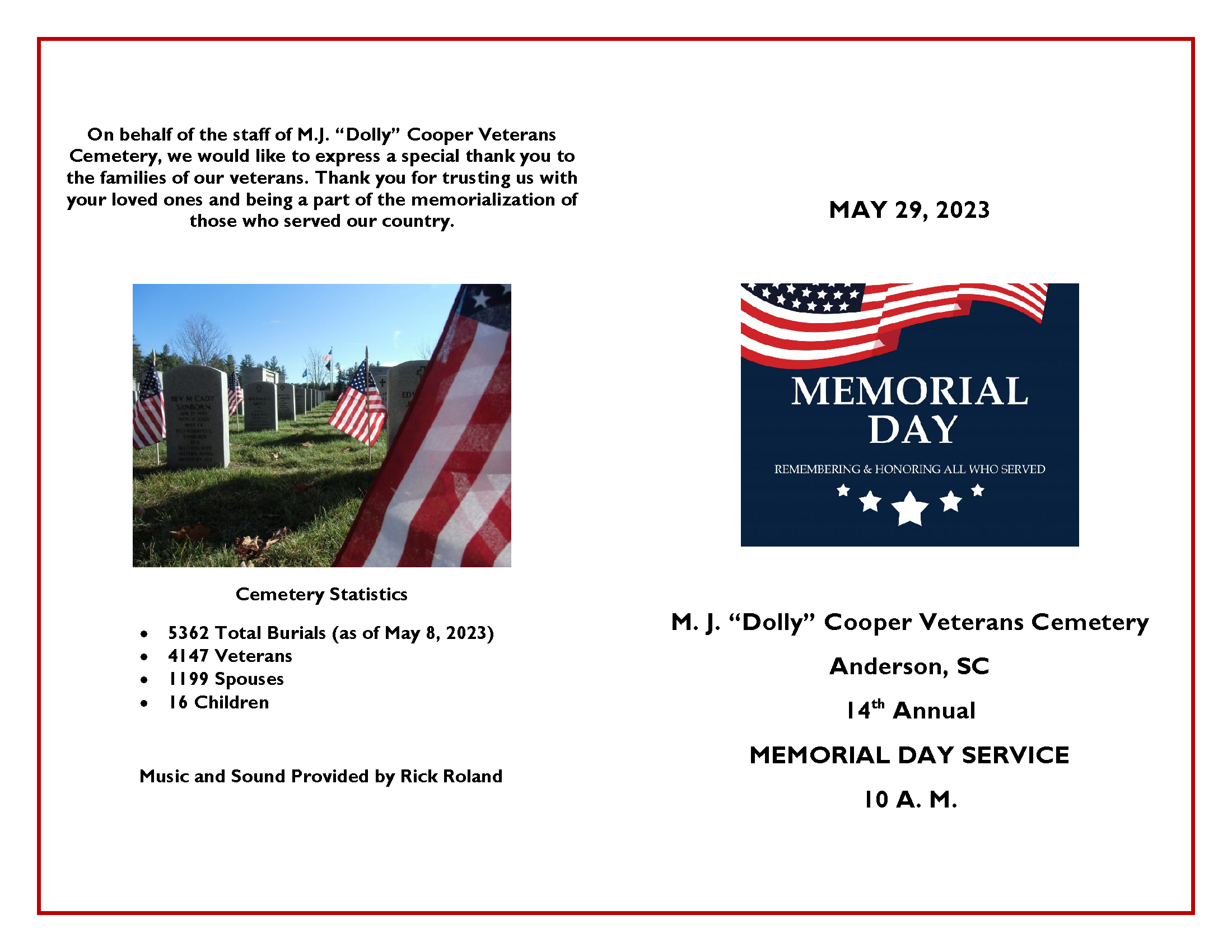 ---
MEMORIAL DAY CEREMONY
FLORENCE NATIONAL CEMETERY, FLORENCE
MAY 29
10:00 AM
Plans include Color Guard, Veterans Honor Guard, Civil War Era cannon firing, and a distinguished speaker. 
The speaker this year is retired BG Lawrence E Gillespie, Sr. BG Gillespie was a helicopter pilot who served two tours in Vietnam.
During over 33 years of distinguished service, BG Gillespie earned the soldier's medal, the distinguished flying cross, and the Combat Infantrymans Badge. His final assignment was as the deputy commanding general, district of Columbia Army National Guard.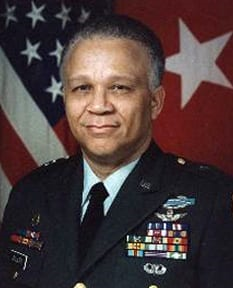 ---
MEMORIAL DAY SERVICE
CAUGHMAN HARMAN FUNERAL HOME, LEXINGTON

---
MEMORIAL DAY REMEMBER & HONOR
LAKE MURRAY VFW 6740, LEESVILLE

---
MEMORIAL DAY CEREMONY
DUNCAN PARK, SPARTANBURG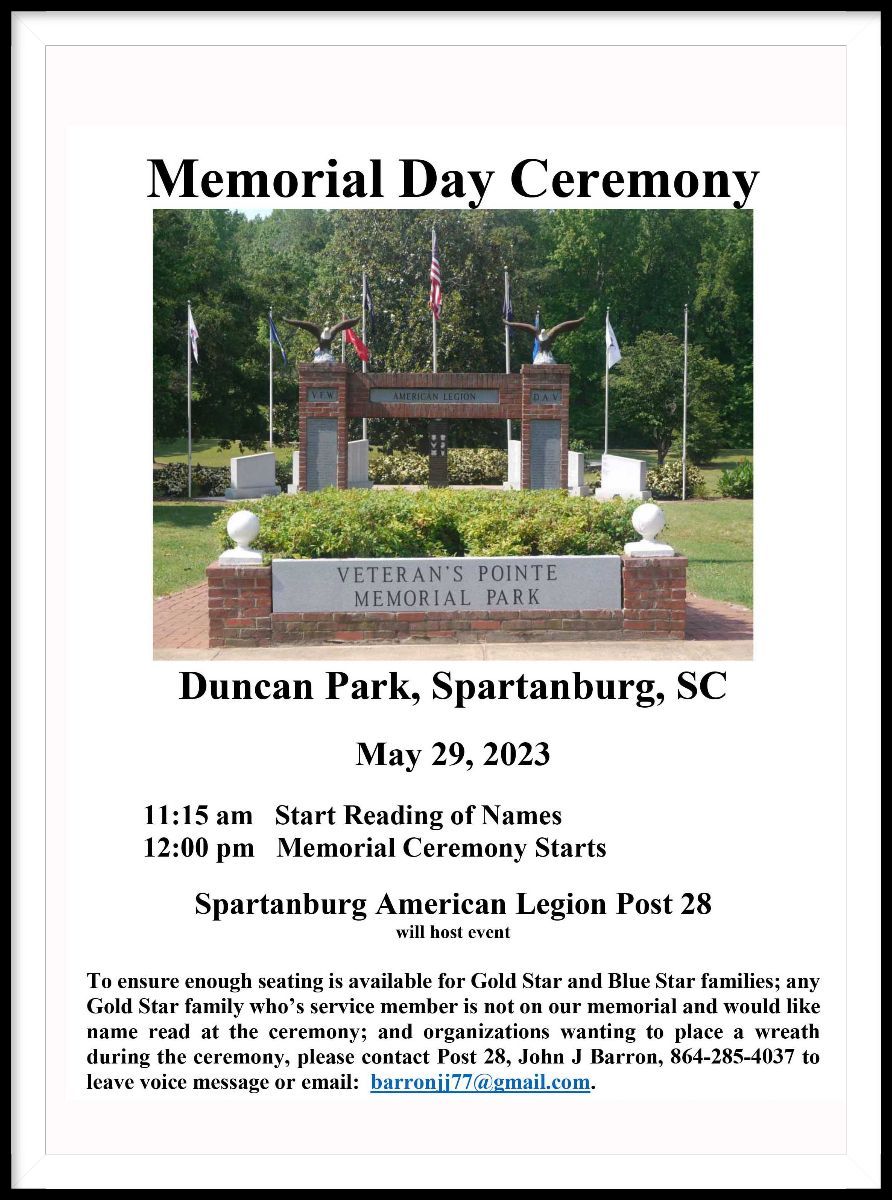 ---
MEMORIAL DAY PROGRAM
LANCASTER MEMORIAL PARK, LANCASTER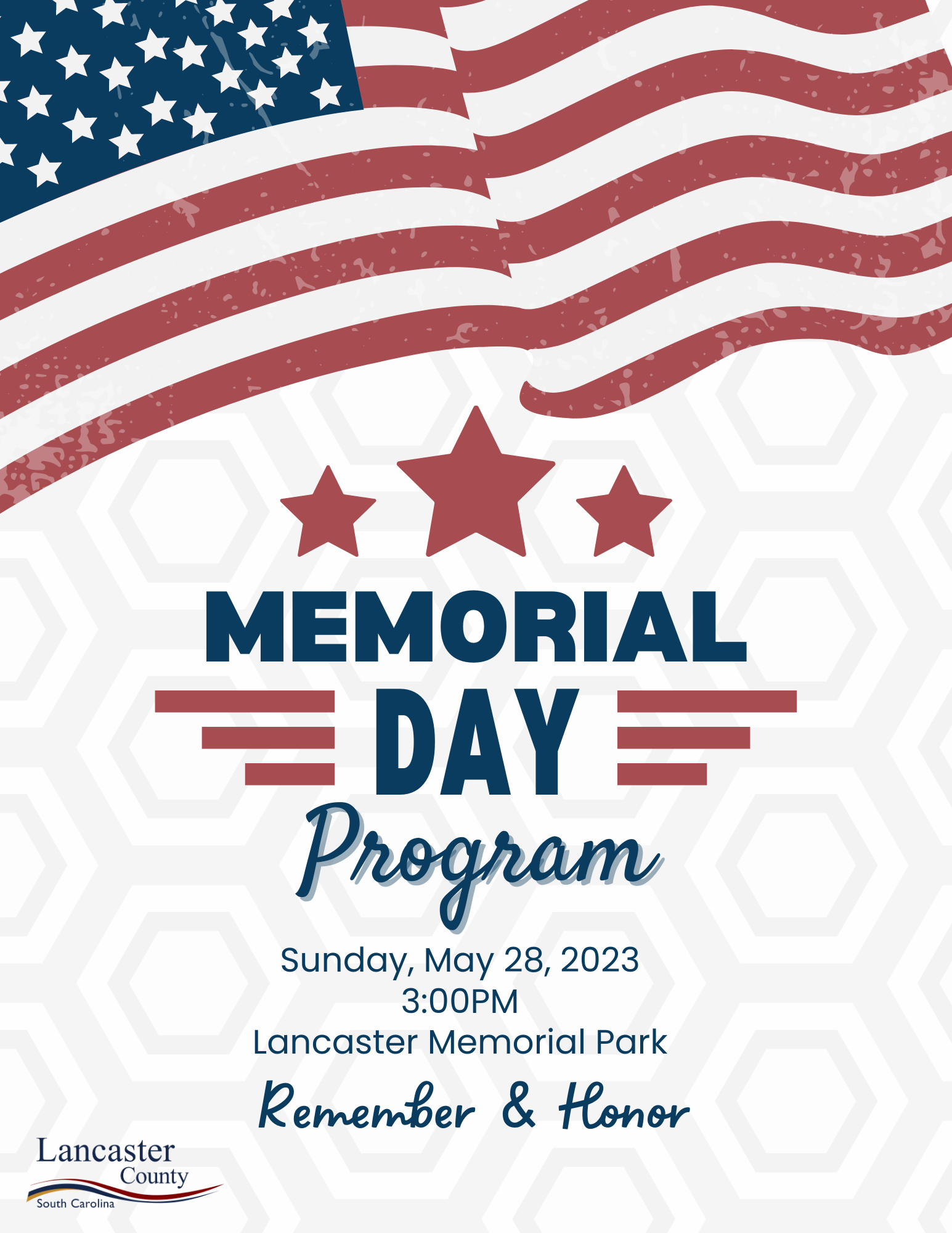 ---
NATIONAL MOMENT OF REMEMBRANCE
FORT JACKSON NATIONAL CEMETERY, COLUMBIA
MAY 29
Fort Jackson Commander, Brigadier General Jason E. Kelly and post Command Sergeant Major Erick Ochs, will participate in a wreath laying ceremony at the National Moment of Remembrance at the Fort Jackson National Cemetery. There will also be patriotic music provided by the 282nd Army Band and Fort Jackson personnel will render a 21-gun salute. This is typically at 3pm.
---
MEMORIAL DAY CEREMONY
MAIN ST, PELION
MAY 29
The town of Pelion and the Ruritan Club host a special Memorial Day ceremony at their Veterans' Monument at 10am. All are welcome and the public is invited. The Address is: 1010 Main Street, Pelion, SC.
---
MEMORIAL DAY CEREMONY
CHAPIN TOWN HALL, CHAPIN
MAY 29
The town of Chapin and American Legion Post #193 host a Memorial Day ceremony at the Chapin Town Hall at 10 a.m. The address is: 157 Columbia Avenue, Chapin, SC. The public is invited.
---
MEMORIAL DAY PROGRAM
LIVE OAK MEMORIAL GARDENS, CHARLESTON
3093 Ashley River Road
Charleston, SC  29414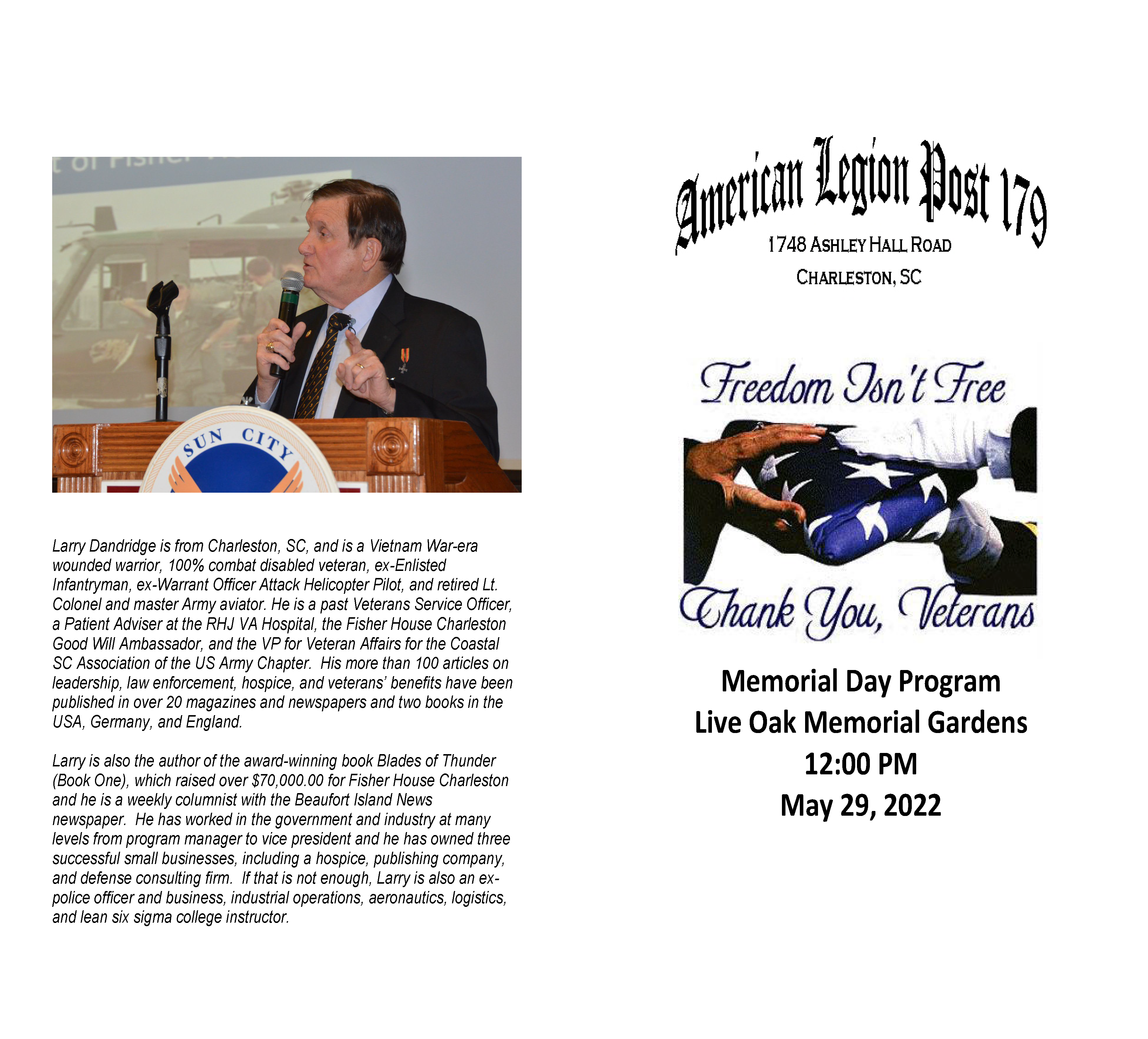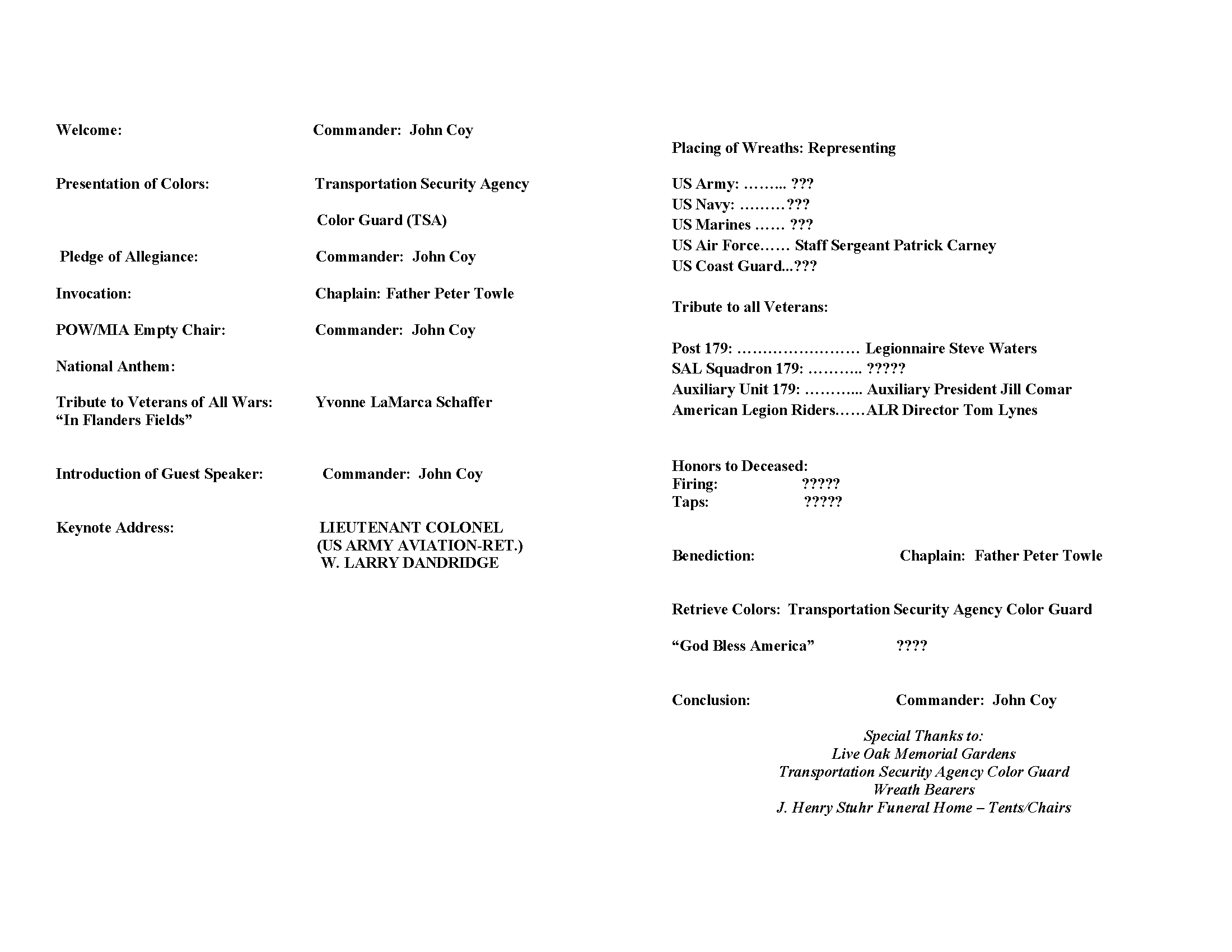 ---
MEMORIAL DAY WEEKEND CONCERTS
VARIOUS LOCATIONS, CHARLESTON COUNTY
Memorial Day Concert- May 29
30 Murray Drive
Hampton Park
3 - 4 PM
To honor those who lost their lives for our freedom, the Charleston Concert Band hopes to see you at Hampton Park in Charleston for our annual Memorial Day concert. The concert is free. Donations to the Charleston Concert Band will be gladly accepted at the concert. Bring your lawn chairs and blankets.
Sunday, May 28, 2023 / Monday, May 29, 2023
Memorial Day Weekend Concerts
Summerall Chapel / Howie Bell Tower
The Citadel
4 PM / 5 PM
Please join Chapel Organist and Carillonist Michael Varnadore as we honor and celebrate in music those who have made the ultimate sacrifice in service to our country. Concerts are free and last 1 hour. Call for more information 843-813-3007
https://www.facebook.com/summerallchapel/
---
MEMORIAL DAY EVENT
SEMPER FI BARN, CENTRAL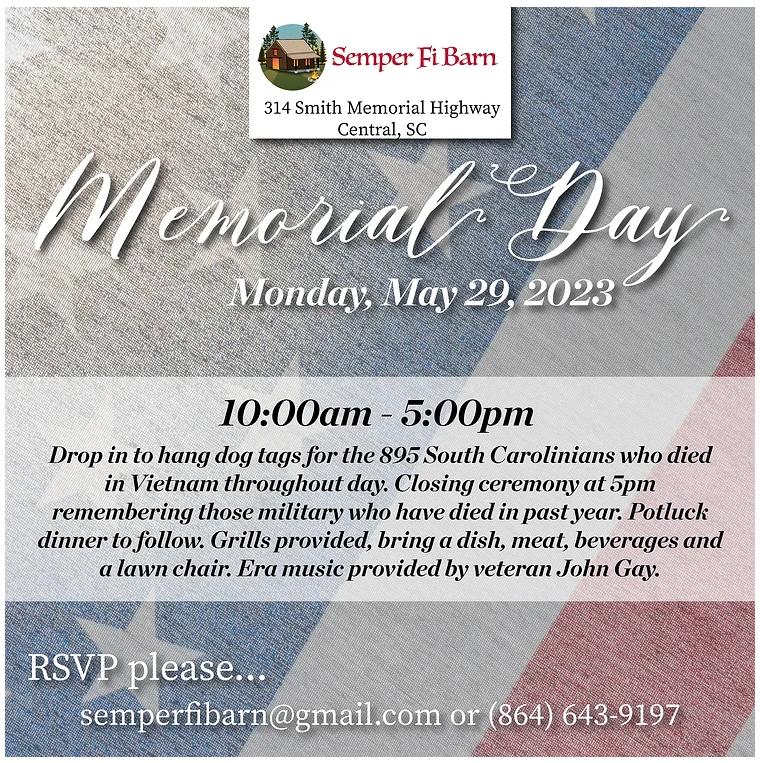 ---
MEMORIAL DAY EVENT
GREENVILLE COUNTY SQUARE, GREENVILLE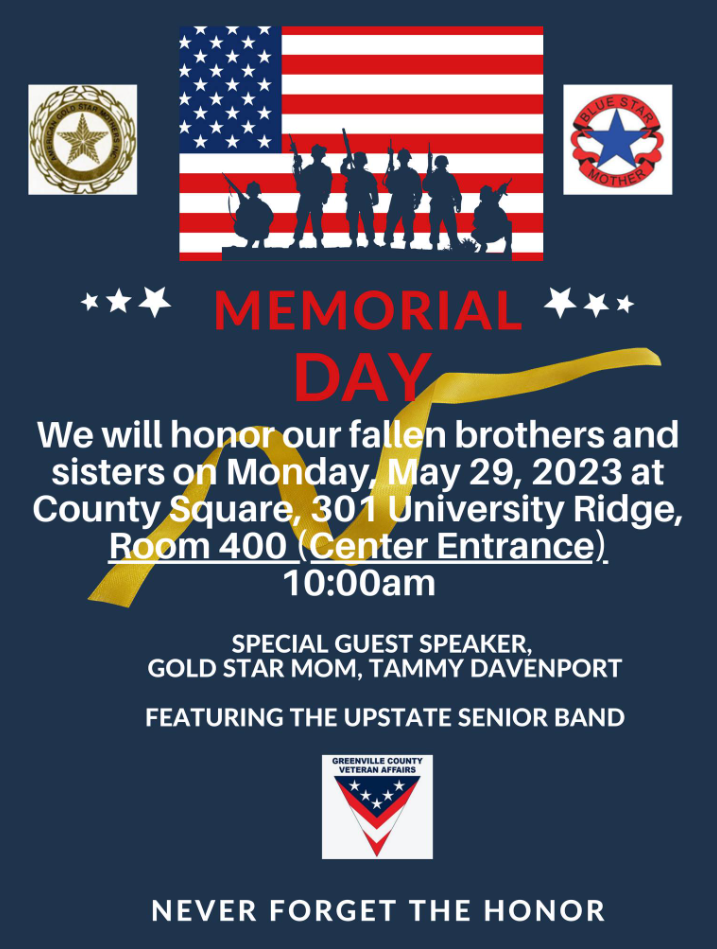 ---
SCROLL OF HONOR MEMORIAL DAY EVENT
CLEMSON MEMORIAL PARK, CLEMSON
Sunday, May 28
4 PM
Clemson Corps will add the 498th name to the Scroll of Honor. A stone etched with the name of Cpl. Harold C. Pearce '51, who served in both WWII and the Korean War, will be unveiled during the solemn ceremony. Pearce was killed by machine gun fire while serving as a military police officer with the 24th Infantry Division in Taejon, Korea, on July 20, 1950. He was 25.