September 30, 2021
COLUMBIA, S.C. - The South Carolina Department of Veterans' Affairs (SCDVA) is increasing awareness efforts to reduce and eliminate of active-duty and Veteran suicides in our state. In September, SCDVA assumed responsibilities for the South Carolina Governor's Challenge, which had been previously headed by the South Carolina Department of Mental Health (SCDMH). The Governor's Challenge, chaired by Governor Henry McMaster is a coalition of Veterans, state agencies/leaders and mental health professionals committed to raising awareness and implementing programs aimed at Veteran suicide prevention.
In SCDVA's 2021-2022 Fiscal Year Action Plan, Secretary Will Grimsley outlined maintaining program responsibilities in accordance with the South Carolina 2021 Governor's Challenge and create a State Suicide Prevention Program. SCDVA's Strategic and Operational Framework seeks to build and sustain a coalition network of service providers to meet the physical, emotional, and mental health needs of the Veteran community with the goal of eliminating Veteran suicide in South Carolina. The first efforts in the creation of the coalition network is SCDVA's hiring of a Veteran Health Promotion Coordinator in the 21-22 fiscal year.
The SCDMH Office on Suicide Prevention has implemented the Ages and Stages Questionnaire (ASQ) campaign in outpatient clinics and are working on including it in SCDMH's Division of Inpatient Services. The agency has been providing training and consultation on screening, identification, lethal means safety, and safety planning to communities across the state. 
Honoring those committed to Suicide Prevention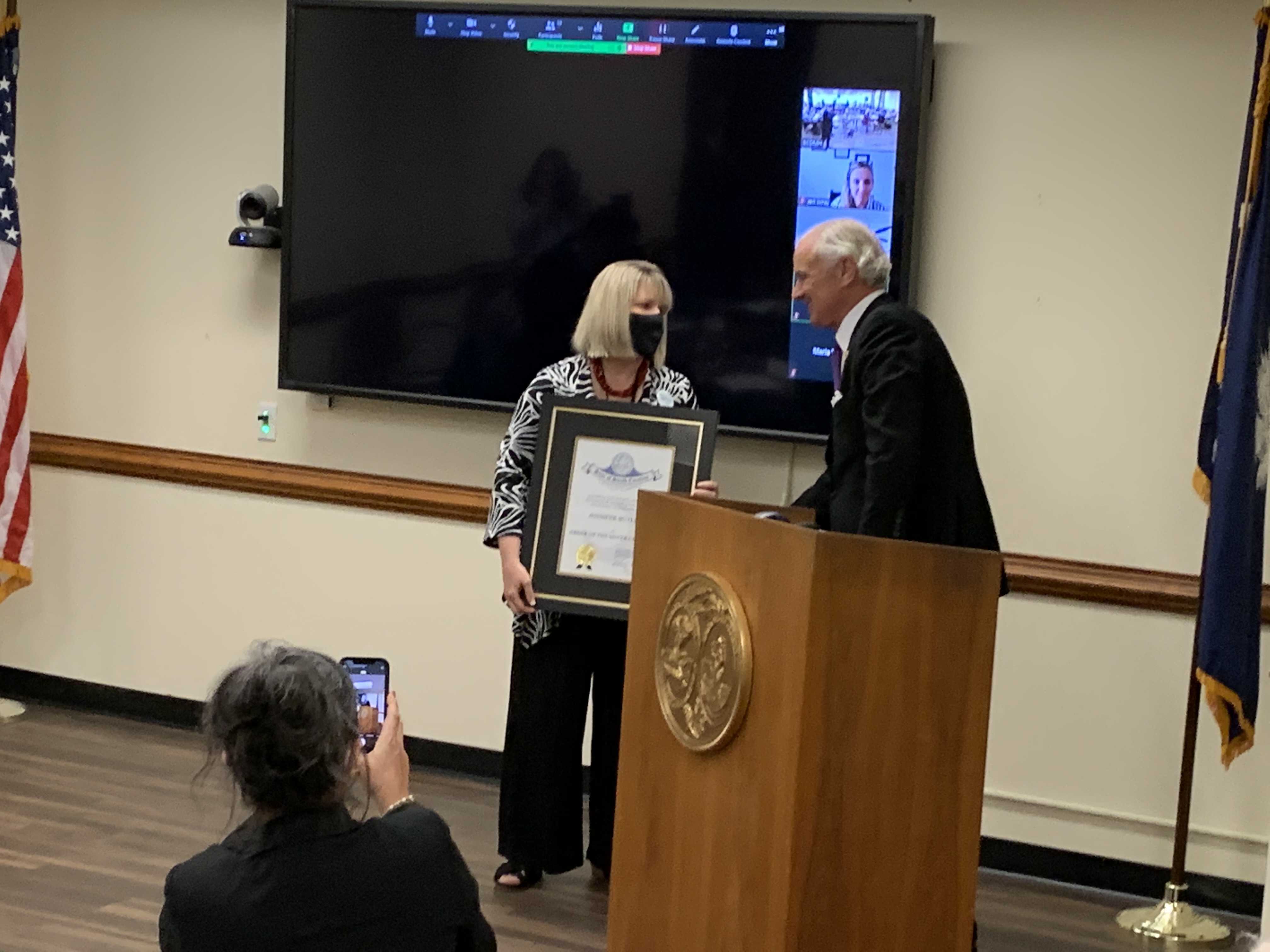 Jennifer Butler, the Program Director for SCDMH Office of Suicide Prevention was presented in September with a surprise honor by Governor Henry McMaster with the Order of the Silver Crescent for her service to the South Carolina community and leading the way in suicide prevention efforts.
The Order of the Silver Crescent is the State of South Carolina's most prestigious service award. It was specifically established to recognize a remarkable single achievement or action or an individual's community service and volunteerism on the local level.
"Being able to better serve those who have given of themselves in service of our country has been a true honor.  It is vital that we strive for and achieve our goal of zero suicide in SC, which includes caring for our Veterans, service members and their families.  When we hold on to each other, we build stronger and supportive communities - ensuring hope lives in South Carolina," says Jennifer Butler, Program Director for SCDMH Office of Suicide Prevention.  

"The South Carolina Governor's Challenge team remains committed to driving Veteran suicide to zero. The efforts led by team leader Jennifer Butler from SCDMH put us on a tremendous path to success, but it takes everyone to make this a reality. SCDVA is proud to assume the leadership of these initiatives as we move forward on behalf of our entire Service Member, Veteran, and Family community across South Carolina," says Secretary Will Grimsley, SCDVA.
About the SC Governor's Challenge
"While I breathe, I hope."  This is the SC state motto and it has been woven into the fabric of our suicide prevention work.  The SC Governor's Challenge team is comprised of strong, passionate and diverse members. We are Veterans, state leaders, mental health providers, leaders from the VA, advocates, Blue Star and Gold Star moms, researchers, National Guard members, loss survivors, family members and hope cultivators. 
The Substance Abuse and Mental Health Services Administration (SAMHSA) has partnered with the United States Department of Veterans' Affairs (VA) to bring the Governor's Challenge to Prevent Suicide Among Service Members, Veterans, and their Families to states and communities across the Nation. READ more on the SAMHSA Governor's Challenge by CLICKING HERE.
The VA's National Strategy for Preventing Veteran Suicide provides a framework for integrating and coordinating suicide prevention activities across multiple sectors. The Governor's Challenge advances the principles of the National Strategy by facilitating policy-to-practice implementation plans. These plans will serve as instruments of change, providing a best-practice public health model that demonstrates meaningful results in suicide prevention.
Over the last 18 months, the SC team has attended several academies, monthly meetings on both the national and local level, work groups, and had boots on the ground doing the hard work of changing culture, cultivating hope and creating actionable change.
SCDVA, SCDMH and other state agencies are blessed to have the support of Governor Henry McMaster, SAMHSA, the VA, our state leaders and communities.
Suicide Prevention all year long
September is National Suicide Prevention Month, but we want to remind our communities they are not alone and that support is always available, anytime day or night. Nationally, 12 million adults and three million children/adolescents live with suicidal thoughts daily. SC was ranked 11th in Anxiety and Depression Rates during a CDC Snapshot (June 23rd - July 5th 2021). Suicide is the 10th leading cause of death in South Carolina, but it is preventable!  For more information on suicide prevention visit our Mental Health Resources page HERE.
SCDMH launched the "Hold On To Me" campaign on social media with the message that, when times are tough, there is always someone to hold on to. We invited individuals and communities to take a photo with our "Hold on To Me" logo, showing their community, friends, and families that they were someone to hold on to in a time of need. Thank you to those who helped in writing and signing the logo in different languages. 
WATCH the "Hold On To Me" campaign commercial spot produced by Spectrum Reach and paid for by SCDVA, SCDMH and SC DAODAS by CLICKING HERE. 
In addition to the campaign, there has been an increase in conversations about suicide prevention and mental health. Systems and communities of care stepped forward to say, "We want SC to be a Zero Suicide state." Families, friends, providers and communities joined in support of loss survivors. Now, more than ever, we need each other!