Mon, 04/11/2022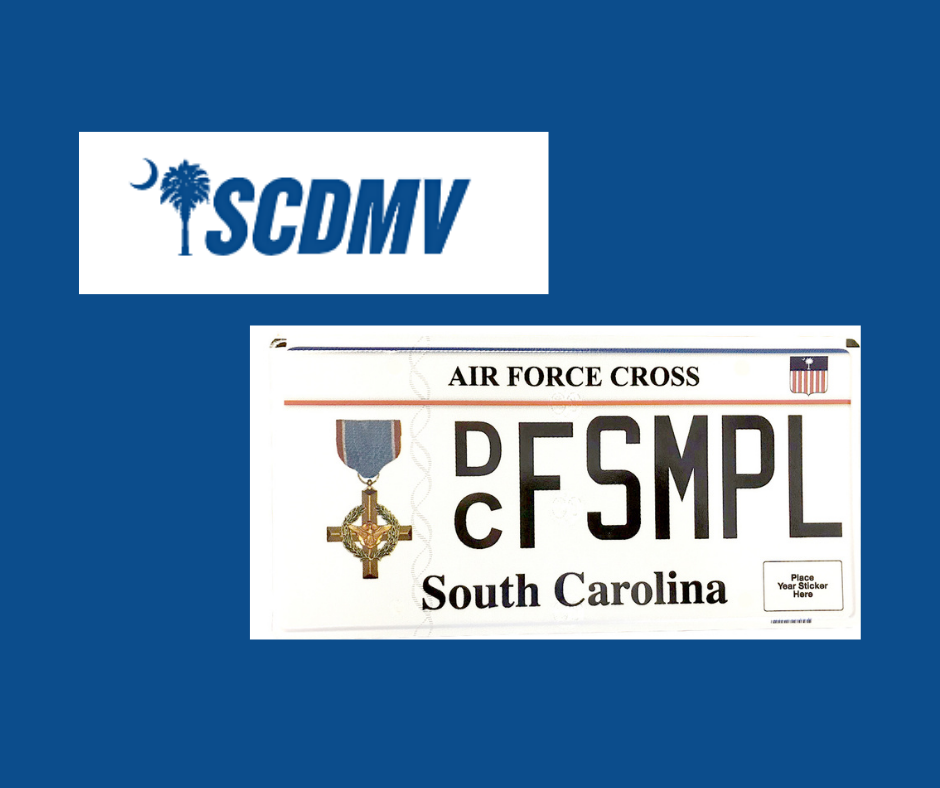 BLYTHEWOOD, S.C. - There are several upcoming changes regarding military plates and the application process at the South Carolina Department of Motor Vehicles (SCDMV). These scheduled changes include a mail-in requirement for all military plate applications, as well as an updated military plate program with new plates, registration fees, qualifications, and benefits.
The agency understands the importance of issuing military plates only to qualified active and prior service members. These changes will allow the SCDMV to thoroughly review customer documents to ensure individuals applying for a military plate meet the proper qualifications.
On April 18, 2022, the SCDMV will centralize the application process for obtaining a military license plate. Applications for military plates will only be processed by mail at SCDMV Headquarters in Blythewood.
Customers who visit branch offices on and after April 18, 2022, to obtain a military plate will receive an Application for Military License Plate (MV-37) and further instructions to complete the application by mail. Customers must mail the completed application and a copy of his or her DD-214, any other required paperwork specific to the type of plate for which they're applying, and applicable fees to SCDMV Headquarters. Once the paperwork and payment are received, the SCDMV will review the application and process it if all required documentation and payment are present. The appropriate plate will be sent to the customer by mail.
Applications that do not have the correct paperwork or payment will be returned to the applicant with a letter that includes the needed requirements. Applicants who have resubmitted an application that still does not meet the requirements will receive a phone call (if a phone number is listed) before the application is returned a second time. Applications will not be held for more than ten days.
Customers should expect the overall time to obtain a military plate to increase as mail-in and processing times could delay the application process. Mailing in the application will add a few days to the process.
On May 6, 2022, the SCDMV will expand and update its military license plate program in accordance with legislation that takes effect the same day. To align with the new law, several changes will occur:
Some of the military plates will no longer have plate registration fees. Plate registrations paid before the effective date of the new law, May 6, 2022, will not be eligible for a refund.
Select military plates will have free metered parking in South Carolina. For those who qualify, there is also an option to have certain military plates with disabled parking privileges. Plates with such benefits will have the appropriate design printed on the plate.
Under the new law, qualifying active or prior service members may receive a maximum of three military plates per eligible plate type. For example, if a customer is eligible for only one type of South Carolina military plate, the maximum number of plates for a specific type of plate he or she can receive is three.
If the military customer is authorized to receive more than one type of South Carolina military plates, he or she can receive up to three of each plate type authorized. However, a plate can only be used for a single vehicle, meaning that the customer will not be able to order three plates for one vehicle.
Permanent military plates will no longer be eligible for transfer after the new plates become available. Current permanent military plate holders will be grandfathered under the new requirements and are not required to surrender their current plates. The SCDMV will have a voluntary plate exchange to allow permanent plate holders to exchange the plate for a new military plate. However, the exchanged plate will be subject to the updated requirements under the new law.
There may be more customers attempting to obtain a military plate due to the added benefits of free parking and free registration that many plates will carry under the new law. The agency appreciates your partnership in helping to inform military constituents about the new plates, the changes to current plates, and the added benefits. For convenience, please refer to the Military Plates Quick Reference Guide.
You can bookmark the new Military Plates page on the official SCDMV website to provide to military customers looking for information on the mail-in process. Updates planned for May 6 will also be posted to the Military Plates webpage.
CLICK HERE for a list of Military License Plates available after May 6.
WATCH SCDVA News Minute on Military License Plate changes by CLICKING HERE.