March 08, 2023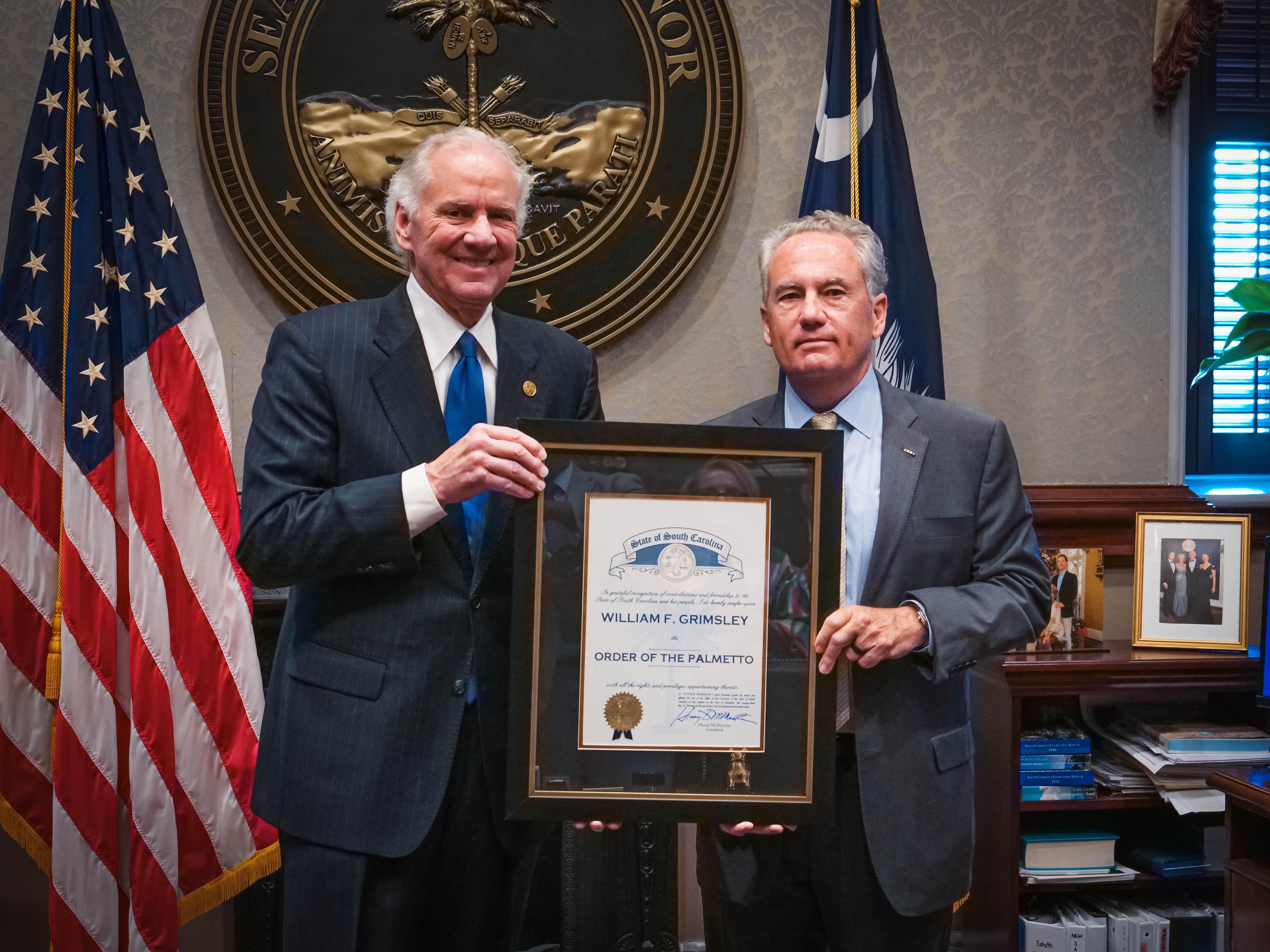 COLUMBIA, S.C. (SCDVA) - Secretary Will Grimsley has been awarded by Governor Henry McMaster the distinguished Order of the Palmetto, South Carolina's highest civilian honor. The award was given during a ceremony at the State House on Wednesday, March 8th. In February, Governor McMaster made the announcement during a press conference that Secretary Grimsley will be retiring.
Several South Carolina leaders including Senator Lindsey Graham, Senator Katrina Shealy (Lexington), Representative Bobby Cox (Greenville), Sara Goldsby (Director of SC DAODAS), Major General Van McCarty (SC Adjutant General), Ben Duncan (Chief Resilience Officer, SC Office of Resilience), Major General Tom Mullikin, and a host of others recommended the awarding of the Order of the Palmetto to Grimsley for his service to our nation and to South Carolina.
"Most impressively he established relationships built on trust with elected officials of all parties and non-parties, senior leaders of the executive branch and everyone he came in contact with, including civilian organizations, federal leaders and anyone involved with Veterans, said Governor Henry McMaster of Grimsley. "He is a man that we have great confidence. In less than three years he turned the concept of a statewide coalition of partners with an interest in Veterans from a handwritten line on a dry erase board in his office into an undeniable reality."
Major General Grimsley served as the inaugural Secretary of the South Carolina Department of Veterans' Affairs for nearly three years, following his Senate confirmation in March of 2020. Since his time as Secretary, Grimsley is credited for his vision of thriving Veterans as the proper mission for the Department, and his recognition that substantial improvements to the lives of South Carolina Veterans can be achieved by more effectively and efficiently integrating the efforts of the multitude of organizations serving Veterans in the state – without any substantial increase in the resources required.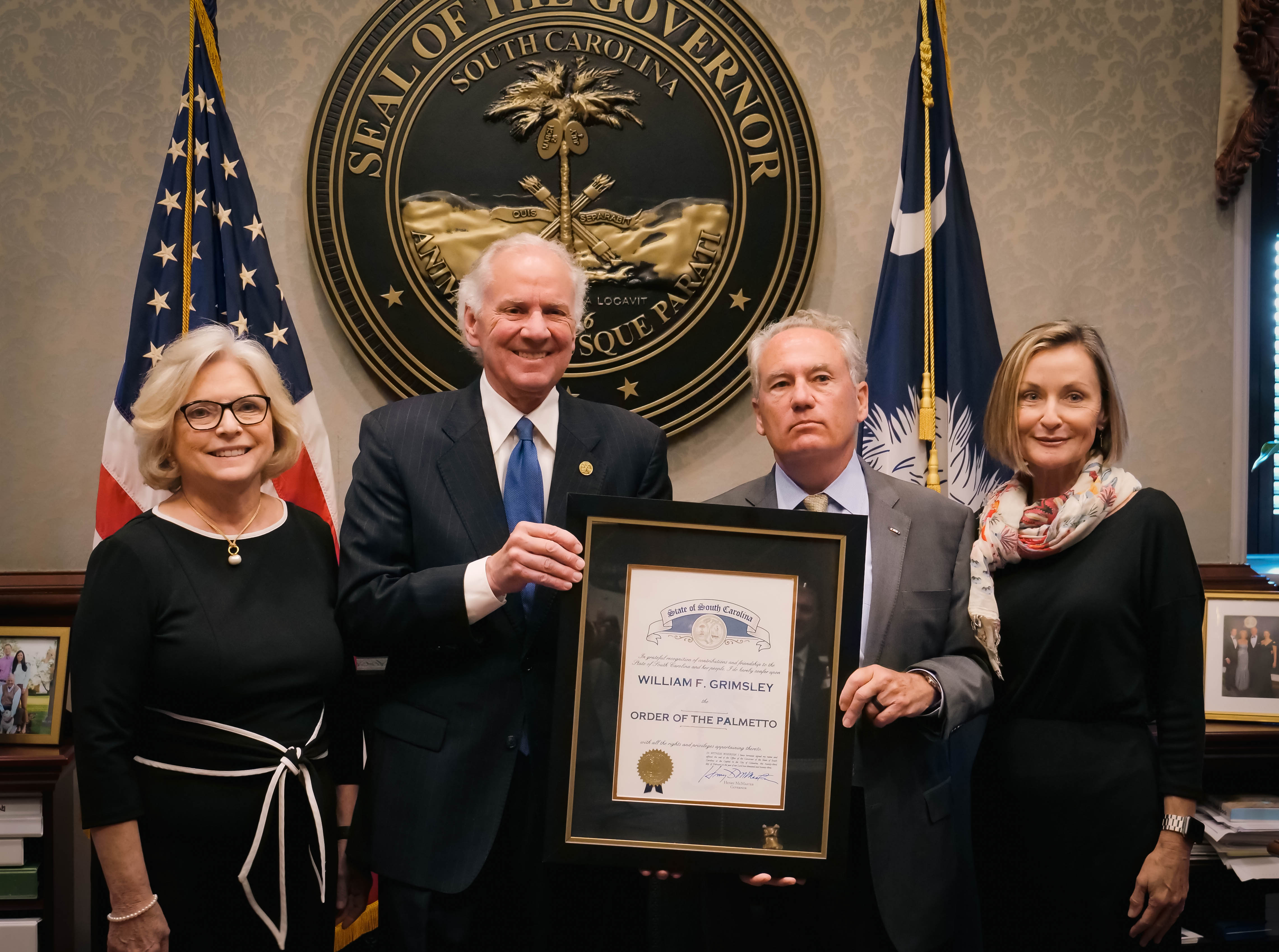 Grimsley has launched numerous programs within SCDVA, including the South Carolina Veteran Coalition and the Palmetto Pathfinder Program. He has also worked with state lawmakers in support of legislation to improve the quality of life for Service Members, Veterans and Families in the Palmetto state, including a big legislative victory in May of 2022 with the passing of the Governor-supported Workforce Enhancement and Military Recognition Act. 
Grimsley is acknowledged for obtaining federal funds to expand Veteran Treatment Courts in South Carolina, establishing the annual Governor's Summit on Veterans' Affairs to provide transparency and accountability for the department's operations, initiating the process for the creation of two additional state Veteran cemeteries, establishing a relationship with the National Veteran Legal Services Program to provide high-quality legal support for Veteran appeals of USDVA claim decisions, and establishing a grant program to distribute funds provided for the Military Enhancement Fund. In November of 2022, Grimsley was recognized by the South Carolina Chamber as the 2022 recipient of the Sgt. William Jasper Freedom Award. 
Previously, for more than 30 years Grimsley served in military assignments throughout the United States, Germany, Korea, Kuwait, multiple combat tours in Iraq, and deployments to several other nations. Grimsley held command and leadership positions at every level from platoon through corps and served on staffs from small unit levels up to both the Joint Staff and in the Office of the Secretary of Defense; with his last tour as Chief of Staff of United States Strategic Command. Among his many awards and decorations, Grimsley earned the Distinguished Service Medal, the Silver Star, multiple awards of the Bronze Star, and the Purple Heart for wounds received in combat.
Grimsley was accompanied by his wife when awarded the Order of the Palmetto and says, "it's important for both of us to give back, we've been given much and it's an opportunity to give back to the people of South Carolina who deserve the most. I like to stay involved in a lot of things and we intend to, and where we can be helpful we'd like to do that. For my fellow cabinet and executive branch friends here, and those not able to be here, thank you! It's been a great friendship. It's a great partnership!"
Retired Major General, Todd McCaffrey (pictured far left in right photo), is expected to be confirmed by the South Carolina Senate as the next Secretary of the South Carolina Department of Veterans Affairs, later this month. McCaffrey was named as the Secretary nominee during the February press conference at the State House where Secretary Grimsley announced his retirement.