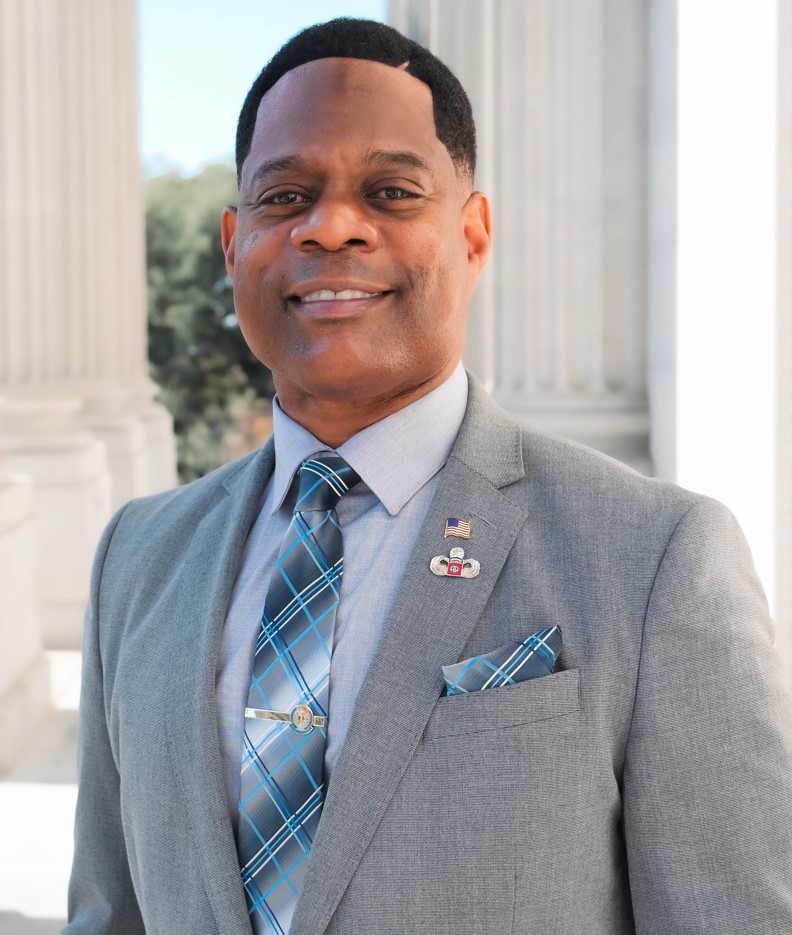 Edward A. Bell (Ed) is the Director of Government Affairs for SCDVA. Ed previously served as a champion for advocacy of the needs and resources of military installations around the state as the Military Base Support Coordinator in SCDVA's Division of Military Affairs.  
"What an honor and privilege it is to serve on the staff of the South Carolina Department of Veterans' Affairs," says Bell. "As the Military Base Support Coordinator, I was afforded the opportunity to witness the power of the legislative process in the passing of the Military Recognition and Workforce Enhancement Act (H3247) that included State Income Tax Exemption for military retiree pay. I am grateful for this new opportunity as Director of Government Affairs to help enable vital resources for the 400 thousand plus Veterans across the state, integrating with all stakeholders who have an interest in taking care of our Veterans and their family members."
Edward A. Bell retired from military service December 1st, 2020, where he served as a senior advisor to flag officers and Senior Executive Services' (SES) at the Pentagon, Washington, DC on all activities that pertained to process, procedures, policies, and legislative matters impacting strategic logistics readiness for global defense. Majority of Ed's 33 years of service has been dedicated to professional stewardship, advising, coaching, and optimizing organizational professional and personal performance.
Ed's most recent assignment was Military Base Support Coordinator for the SCDVA and now he serves as the SCDVA Director of Government Affairs advocating for over 400 thousand Veterans, Military Members, Department of Defense (DOD) personnel and their families that are geographically dispersed throughout South Carolina.
Ed holds several degrees and certifications to include a Bachelor of Science in Business Administration from Touro University (Summa Cum Laude); Executive Leadership Certification from the University of Kansas; Demonstrated Master Logistician Certification from the International Society of Logistics and the Army Logistics University; Professional Logistics Engineer Certification from both the North Carolina Department of Labor and US Department of Labor; Executive Leader Development Certification from the US Army War College, (Pre-Command Course) Joint Special Operations Forces, (Pre-Command Course) TRADOC, (Pre-Command Course), Command and General Staff College and a Diversity, Equity and Inclusion in the Workplace certification from the University of South Florida, Muma College of Business.
Ed's seven deployments include: Operation Desert Shield/Desert Storm; Operation Iraqi Freedom; Operation Enduring Freedom II, XI, XIII, XIV; and Operation Spartan Shield XVI.
His awards and decorations include: Distinguish Service Medal, Legion of Merit (4th award), Bronze Star Medal (4th award), Meritorious Service Medal (5th award), Humanitarian Service Award, National Defense Medal, Global War on Terrorism Medal, NATO Medal, Kuwait Liberation Medal (Saudi Arabia and Kuwait), Pentagon Staff Badge (Army), Master Parachutist Badge, Royal Dutch Parachutist Badge (Foreign), and Australian Parachutist Badge (Foreign); additionally Ed is a Hall of Fame Inductee in both the 82nd Airborne Division and Quartermaster Regiment.
Ed has four children: James (DOD contractor), Marcus (College Major Advisor, USC), Devon (CPT, US Army) and Ed Jr (Certified Welder) and 2 Grandchildren (Hanivkar and Kokiba).