The South Carolina Veteran-Friendly Employer Recognition Program highlights those South Carolina businesses that enable thriving Veterans by:
Recruiting Veterans into the organization.
Empowering Veteran employees to reach their full potential; and
Enhancing the potential of Veteran employees.
Eligibility Criteria.  To be eligible for recognition under this program, a business must:
Employ people in South Carolina; and
Be in good standing with the US Department of Labor.
Recognition Criteria.  This program offers recognition at three grades: Bronze, Silver, and Gold.  Each grade is associated to a specific standard in recruiting, empowering, and enhancing.  To qualify for any grade of recognition, an employer must meet the associated standard in all three areas (recruiting, empowering, and enhancing).  An employer that meets the Gold standard in one area, the Silver in a second, and the Bronze in the third is eligible for Bronze recognition.  Details for each grade and area are on the back of this document.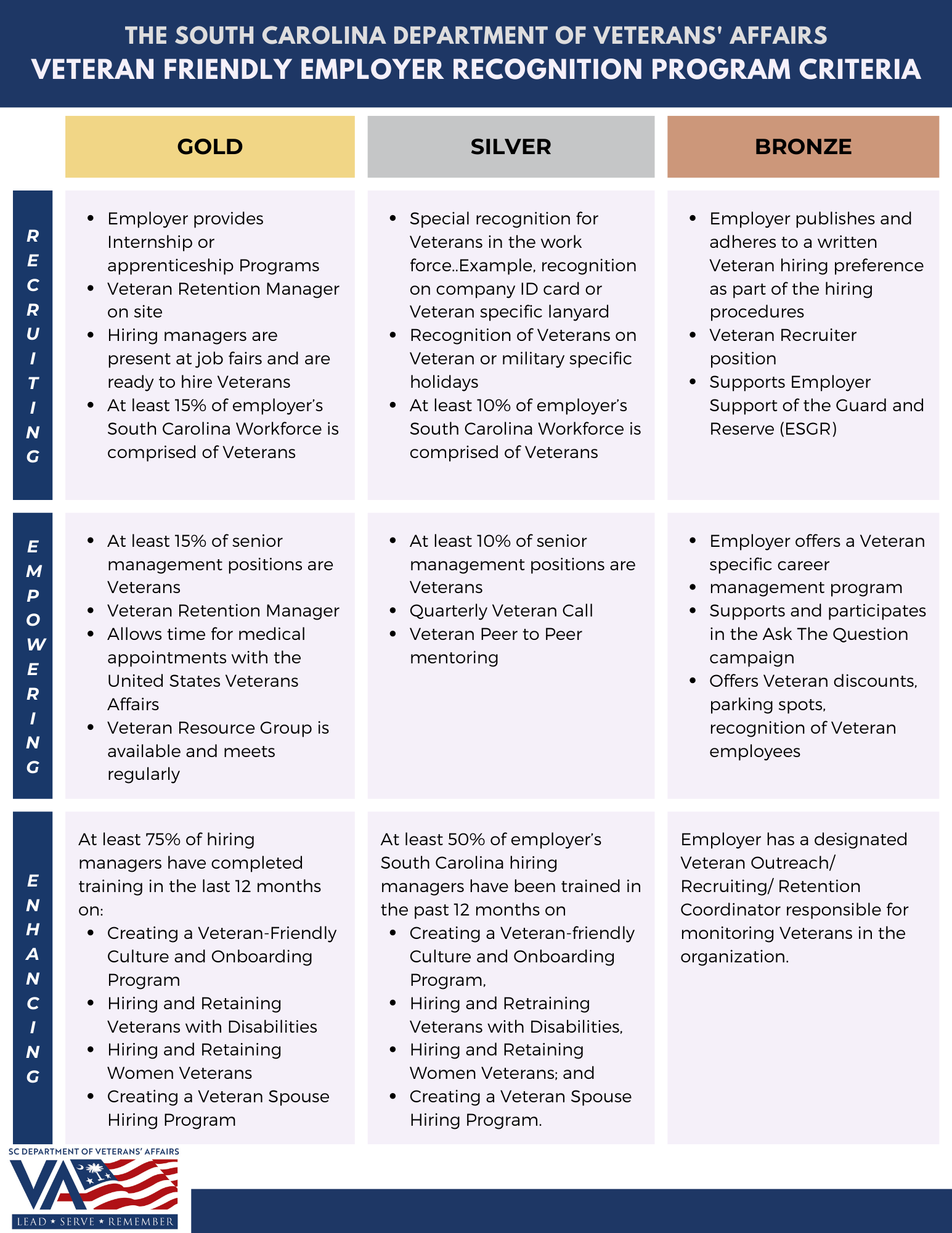 Getting Assistance.  The South Carolina Department of Veterans' Affairs can assist employers who wish to improve their utilization of the unique skills and experiences of the South Carolina Veteran population.  Contact us at va@scdva.sc.gov for information about available training on:
Translating military skills and experiences into civilian jobs;
Hiring and retaining Veterans;
Create a Veteran-friendly workplace environment;
Effectively integrating Veterans into your workforce;
Other topics relating to recruiting, hiring, and getting the most from Veterans.
Applying for Recognition.  To apply for Gold, Silver, or Bronze recognition as a South Carolina Veteran-friendly Employer, contact us at va@scdva.sc.gov.