May 11, 2023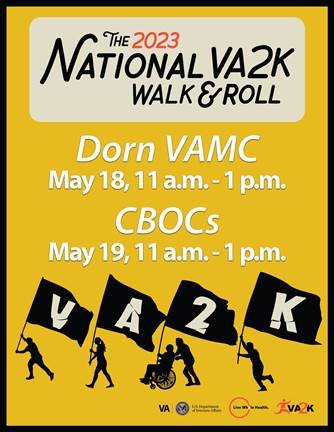 The VA's 13th annual VA2K Walk & Roll event is back with goals of moving the body in support of your whole health and well-being, while also helping homeless Veterans. The event is scheduled for May 18, 2023, at the Wm. Jennings Bryan Dorn VA Medical Center's (VAMC) Wellness Track starting at 11 a.m. There will also be events help at each of our CBOCs on May 19, from 11 a.m. - 1 p.m.  The community is invited to participate in the VA2K event which includes a short two-kilometer walk (1.24 miles).
The event is FREE, and it is suggested that participants be on site 15 minutes prior to the start. To help area homeless Veterans, participants are encouraged to bring a voluntary donation such as clothing, toiletries, packaged food, or bottled water. These donations will be collected and distributed to local homeless Veterans. Donations are not required to participate.
Since 2011, more than $3 million in donations of these type have been raised nationally to help homeless Veterans. Community groups who are interested in participating in the event should contact the local VA2K coordinator, Kathleen Doherty, at 864-224-5450, ext. 2501, or via email at Kathleen.doherty3@va.gov.
It is never too late to donate!! If you are unable to attend the event but would still like to support homeless Veterans of South Carolina, you can do so online. To donate online follow this link: https://www.cdceportal.va.gov/donate_online/ scroll down to choose State & Facility, then choose "Homeless Veterans" in the "Program for Donation" drop down.