September 06, 2023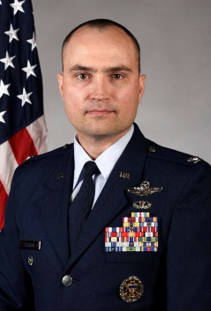 INFORMATION IN THIS ARTICLE PROVIDED BY THE U.S. DEPARTMENT OF DEFENSE & UNITED STATES AIR FORCE
COLUMBIA, SC (SCDVA) - Former Air Force Colonel Lawrence T. Sullivan has been nominated by President Joe Biden to be appointed to the grade of brigadier general, according to U.S. Department of Defense Secretary of Defense Lloyd J. Austin III. Sullivan is currently serving as the principal military assistant to the Secretary of Defense, Department of Defense, at the Pentagon in Washington, D.C.
Colonel Sullivan is the former Commander of the 20th Fighter Wing, Shaw Air Force Base in South Carolina. He previously was responsible for the mission readiness of the wing's 79 aircraft, 17 wing staff agencies, stewardship of Shaw, and the health and welfare of 6,576 active-duty Airmen and civilians and more than 8,000 family members. Further, he supervised the support of the 31,000 local military retirees and 29 geographically separated units across nine states.
Colonel Sullivan graduated from the United States Air Force Academy in 1999. He has served as an F-16 Weapons Officer, Director of Operations, Squadron Commander and Vice Wing Commander during flying assignments at Osan AB, Korea, Eielson AFB, AK, Misawa AB, Japan, Nellis AFB, NV, and Kunsan AB, Korea. He was selected as the top F-16 Weapons School Graduate for 2006, was named outstanding F- 16 Weapons School Instructor, and conducted a strike mission to Afghanistan that received the Mackay Trophy.
While at Nellis AFB he was the Weapons School's primary Mission Commander and Integration instructor across 17 Squadrons and 30+ weapons systems, and also the SEAD flight commander for the F-16 division. He attended the Naval War College followed by the School of Advanced Air and Space Studies. In 2016 he was a Service Chief Fellow at DARPA, and in 2017 graduated from the Eisenhower School at National Defense University. While on the Joint Staff he served as Chief of the Special Projects and Innovation Division, J39, Pentagon. He was responsible for sensitive compartmented planning, inter-agency coordination, and project Datahub, an initiative to deliver improved strategic intelligence using remote sensing, data analytics, machine learning and artificial intelligence.
Colonel Sullivan is a command pilot with 2,000+ flying hours, including 200+ combat hours, primarily in the F-16CJ.