October 05, 2023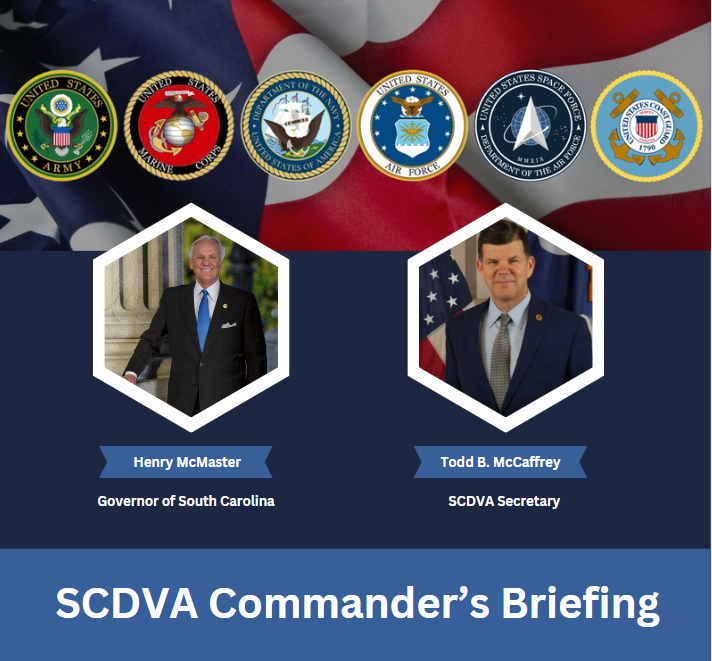 COLUMBIA, S.C.- The South Carolina Department of Veterans' Affairs is hosting its annual Governor's Commander's Briefing on Thursday, October 5 from 2:30 P.M. to 4:30 P.M in the Pastides Alumni Center in downtown Columbia. Prominent military leaders from South Carolina's eight military installations and Fort Gordon will provide an update to Governor Henry McMaster, SCDVA Secretary Todd B. McCaffrey, Speaker of the House of Representatives Murrell Smith, South Carolina Military Base Task Force Chairman Dan Beatty, and several cabinet agency heads on challenges opportunities in South Carolina and Fort Gordon, Georgia. 
Secretary Todd B. McCaffrey will lead the discussion with the following military installation leaders:
• Colonel Kris Smith – Shaw Air Force Base
• Brigadier General Jason Kelly – Fort Jackson
• Colonel Mike Freeman – Joint Base Charleston
• Captain Frank DelRosso – Coast Guard
• Colonel Derek Roberson – Parris Island
• Lt. Colonel Robert Steinhauser – MCAS Beaufort
• Captain Chad Roe – Beaufort Naval Hospital
• Major General Paul Stanton – Fort Gordon
• Major General Van McCarty – National Guard 
You can tune in and watch the stream LIVE at 2:30 P.M. by clicking here.