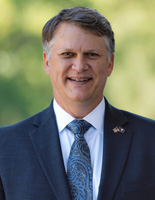 Dan Beatty is the Chairman of the South Carolina Military Base Task Force. Beatty was commissioned as an Army Infantry Officer following his graduation from West Point in 1990 with a Systems Engineering degree.
During his assignments, Dan served in numerous locations with overseas deployments including Somalia, Iraq, and Afghanistan, finishing his career as the Chief of Staff for Ft Jackson. After transitioning from the Army, he served as the Director of Support for the South Carolina Disaster Relief Organization to provide relief to those affected in the October 2015 floods.  
Dan is also the Chief Compliance Officer for the South Carolina Education Lottery.